Women In Defense Virtual Leadership Symposium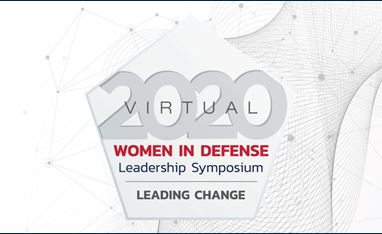 9/10/2020 - 10/9/2020

Theme : Leading Change
Event Type : Conference
Event Code : 0WID
Description
The Women in Defense Virtual Leadership Symposium has ended.
However, the virtual platform, including the Expo Hall, will remain open until Friday, October 9, 2020 to registered attendees where attendees may view all recordings of the sessions (except the workshops). Please note the Expo Hall is open for attendees to view partner/sponsor videos and download PDFs. If you wish to contact a partner or sponsor, please reach out to rmccaffrey@ndia.org or aabdala@ndia.org. Please log back in to the symposium platform using your original personal access link.
.Did you miss the Leadership Symposium? Don't worry, we have you covered with On Demand presentations. For information on how to register to experience these presentations, please view our Registration page.
.
JOIN US!
Join us for the Women In Defense Virtual Leadership Symposium! With workshops, a panel discussion, and multiple keynote addresses, this symposium furthers WID's objective of providing professional development opportunities to our members and others working in national security positions. Over the course of this one-day virtual event convening members of the military, defense industry, government, and academia, we will explore ways to create a more diverse workforce and strengthen American and allied national security.
WHY ATTEND?
As many professionals and scholars are currently conducting a large portion of their work from home, we aim to forge new and stronger connections between them and potential employers and partners. Our Leadership Symposium theme, "Leading Change," ensures attendees will gain the information, strategies, and business acumen necessary to obtain their personal and professional objectives related to defense and national security.
Attend two high-level keynote addresses, including;

Sharpen your professional skills at the Power Workshop

Explore the value and importance of "Leading Change" through a panel discussion led by key leaders
See our agenda here.
Click here to download instructions on how to use the virtual platform.
Maximize Your Engagement with Industry Companies by Submitting Your Resume Today!
Participating organizations actively promote, support, and advocate for women in the defense industry as well as actively recruit talented women for employment opportunities. Attendees are encouraged to upload their current resumes here, which will be shared with exhibiting organizations to maximize networking.
WHO ATTENDS?
In previous years, we have welcomed professionals working in industry, government, and academia as well as students, young professionals, and members of the media to our annual National Conference. As always, Women In Defense extends a warm welcome—to our organization and our events—to women and men of all backgrounds and ranks whose primary professional activities or interests relate to the national security of the United States and its allies.
Keynote Speakers
Women In Defense Virtual Leadership Symposium